"Amplify your business with a good Google business profile" is common. As a business owner, following every new trend in the market cannot be very comforting. Launching a brand offline could be tiresome, but have you ever considered the online existence? Well, it is equally essential for a brand to have an excellent virtual presence. Google offers an easy way to launch and advertise your business online.
Let us simplify the process for you all through this blog post. From a branding perspective, ranking high or gaining online visibility is crucial. Have you heard about Google Business Profile? It was formerly known as Google My Business – A free tool that allows businesses and organizations to manage their online information. They can manage working hours, location, and contact information.
Google Business Listing could have an actual storefront business or a service-based business. It helps a business owner understand and check insights, reviews, organic views/traffic, etc. Creating a Google Business Profile is easy and only takes a few minutes. Plus, it gives you control over how your business appears on Google Search and Maps. So if you haven't already, create your Google Business Profile today! Let's check 3 fundamental reasons to create or have a Google Business Profile.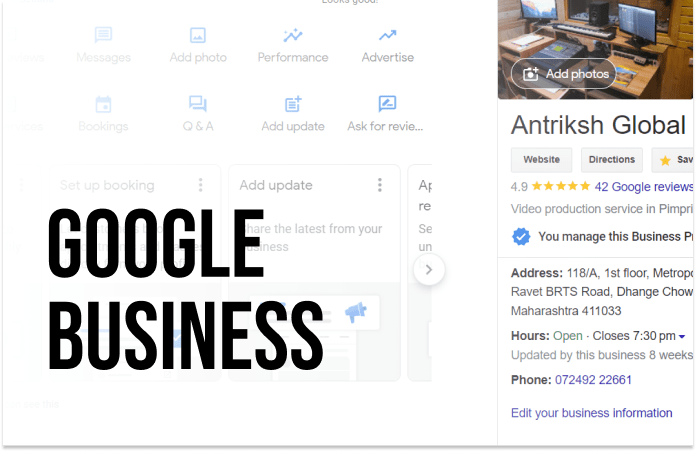 1. Create a Google Business Profile for Free Advertising
Any business owner can do free advertising with the help of a Google Business Profile. Anyone can create a listing and add the necessary information. These details are live on the Google search page and Maps (if location-based). Later on, the rightful owner can claim the listing with the phone number and email address. The owner can easily add/update the business offerings, locations, photos, offers, or working hours. Google Business Profile's dashboard feature is used to check the business insights and track the visitors' clicks on the business.
2. Score and Rank with Reviews
Customer views or reviews are essential for a brand to thrive in the market. Use the space to engage in every review posted by any user. Every type of review is like a new learning experience. Take negative reviews as constructive feedback and work on it. Use positive reviews to gain more audience and get inspired to give the same compelling quality or experience.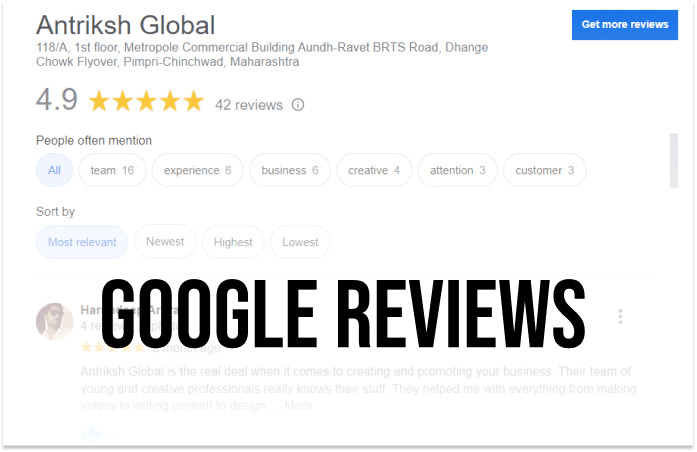 3. Appear on Google Maps
Location-based businesses often recommend Google Business Listing. It usually appears in local pack search results with the location name. The most commonly used term is 'close or near my area,' 'where to shop,' where to eat, where to buy, and many other things. The business owner can easily handle the Google listing through search or Google Maps. For the best SEO strategy, include relevant and semantic keywords in the business description or details page.
Benefits of an optimized Google Business Profile
A well-optimized listing has a larger audience. Customers often review and post valuable feedback. Reviews add value to a listing. Many new users read these reviews and use the services. Similarly, it helps the listing improve the Google Ranking of the business.
Serving neighborhood locations in a listing helps to draw attention from nearby locations and boost sales. In the case of location-based businesses, users can navigate them with ease.
Users or owners can add photos/videos to the profile. Pictures often posted by the owner can include offers. These help to boost engagement.
See insights from the dashboard and gauge the progress. Learn and modify your strategies accordingly.
The well-optimized profile should have special attributes as per business type. For example – Restaurants have wheelchair-accessible, cards-only menus and other features.
The best way to keep the audience engaged is to add accurate working hours and timings. Wrong timings could be a turnoff for the business!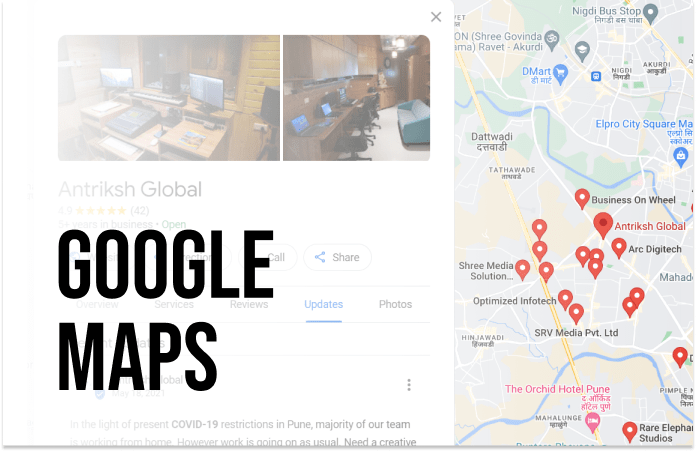 In addition to a Google Business Profile, a website could do wonders for your brand. A potential visitor might want to know more about your offering or services. Only a proper and detailed website could help them make a decision.
Google Business Profile does wonders in several ways – Read the statistics here to learn more.
Call us today to book a free consultation. We can help you set up your Google page, a website, and a free consultation about your branding journey. Allow the expert professionals at Antriksh to simplify your website design process.