Sales play an essential role in every business. It is a significant factor that impacts the overall existence of the business. Several brands opt for Traditional Marketing, and some try Digital Marketing. For any brand, devising a good marketing strategy is essential, irrespective of any marketing type. Moreover, planning your marketing and advertising efforts around data can be beneficial for your business.
People have this preconceived notion that data-driven marketing strategies only apply to Digital Marketing. On the other hand, Traditional and Digital Marketing both use data-driven strategies. Let us simplify some important pointers about the significance of data-driven advertising for any brand.
Data-driven advertising helps a brand target a specific audience. It enables a combination of several factors like trends, insights, facts, engagement, patterns, and many more. It supports understanding customer perception and uses appropriate/tailored content for a successful campaign. This campaign can result in desired output like targeted sales is sufficient.
Why Opt for Data-Driven Advertising?
For example – A random individual's frequent visits to the brand's website suggest an interest in the products offered. Still, a need for purchases after browsing the e-commerce store indicates hesitation or concerns. To address this, the brand could provide data-driven strategies like more detailed product information, offer promotions or discounts, and provide customer support to help the individual make an informed purchase decision. By understanding the individual's behavior and providing relevant support, the brand can convert the frequent visitor into a paying customer.
Lufthansa is a well-known aviation company. Let's take a look at how data-driven strategy helped them with increasing their organizational efficiency.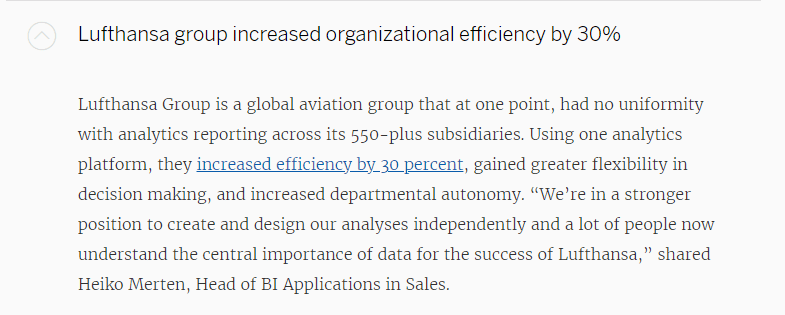 Data-driven strategies help to understand key performance indicators for a brand. Any brand needs data and thorough research to plan digital advertising. Overall, you need a data-driven approach to advertise on any medium -offline/online. That also includes testing creatives and marketing collateral from different data test points angles. Paying attention to research data and adapting agilely based on data insights from organic and inorganic reach of advertising done by any brand.
How Will it Help Me as a Brand Owner?
Creating a rough database is essential to include best practices for data-driven advertising. It starts with the actual brand vision, adding and collecting data sources, documenting all the accumulated data, utilize the data to make different analyses and strategies. The last one is the output, gathering results, making amends, or planning a new strategy.
A data-driven strategy has multiple benefits. Let's check some of the important ones in the article.
It helps to recognize best practices
Determine the perfect platform for marketing
Understand your audience
Drive leads, sales, and profits
Add smooth workflow
Provide relevant information
Improvise implementation
Personalized brand experience as per customer insights
The overall business strategy today mostly depends on a data-driven culture. Almost all organizations today work similarly to deliver targeted goals/outputs. Combining data and analytics for advertising purposes is an impeccable combination. Data-driven advertising can help businesses make more informed decisions, improve customer engagement, and drive revenue growth. By leveraging the power of data, companies can obtain a competitive benefit in the current digital world and thrive in an ever-changing market.
As a brand owner, it can take a lot of work to understand the basics of data-driven advertising or include them efficiently for your brand. We at Antriksh will help you simplify the process with a proper in-depth data analysis for your understanding. If you want to be at the top of your brand content game, visit antrikshglobal.com or mail us at contact@antrikshglobal.com to get a FREE brand consultation and a guide on devising your brand's content strategies!