Websites are vital in building a solid online base for any business. It helps the users to connect with any brand effortlessly. We use a landing page mainly for advertising campaigns. It furthermore helps to convert the traffic into leads/actual customers. Let us see how a website homepage and landing page are different and why a business should focus on creating an impactful landing page. A well-optimized landing page can do wonders for your brand's digital presence.
The difference between a website homepage and a landing page
A static website or website homepage is like a regular business website. It has typical business offerings or service details. On the other hand, a landing page mainly focuses on the goal and target audience. The primary purpose of the landing page is to convert potential consumers into actual customers or clients. It also means converting them into genuine buyers to avail of the brand services. The landing page differs according to the business type. It should have fewer distractions, and the primary focus should be on the goal.
There are several types of landing page techniques used by marketers these days. We will not dive deep into the categories but let's check some examples of different landing pages. We sure have seen them: Free Consultation, Online Magazine Email Subscription, and Skill-based Course Enrollment.
Read the current statistics to know more.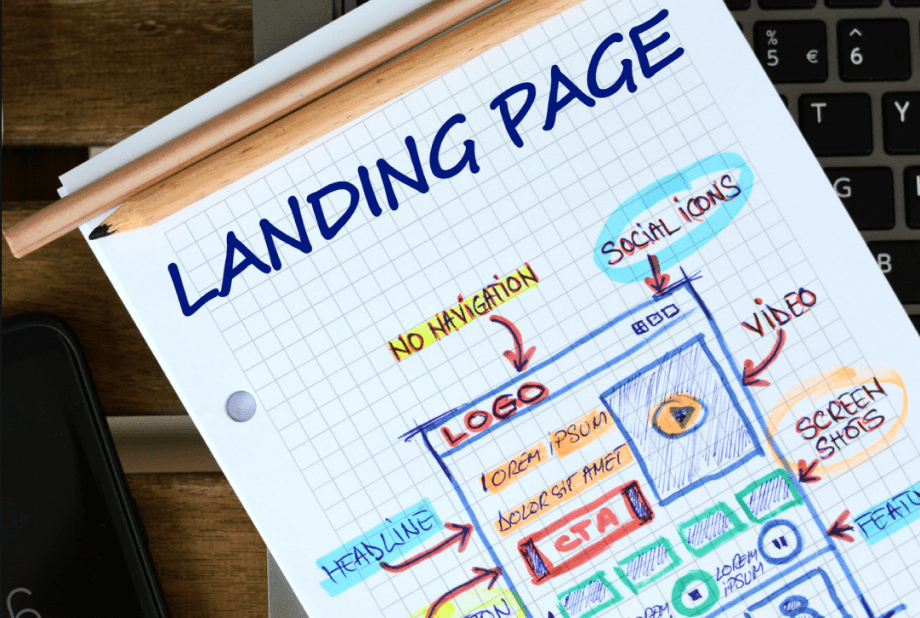 AAARRR framework
Dave McClure developed the AAARRR framework. It is a 6-metric effective funnel for marketers today. Startups also consider the model to measure every success/failure or growth.
Awareness – How many people are aware of your product or service?
Acquisition – How many visitors are on your brand website?
Activation – How many of the above visitors consider the first step? It includes sign-up, filling up a survey form, and downloading the app or Ebook.
Retention – How many of your new customers are returning? Repeat customers or buyers.
Revenue – How much or how many customers are paying for your services?
Referral – A common feature these days – How many people refer your business or brand to their family or friends?
The framework's correlation explains the importance of a good landing page. The first three steps of the funnel – Awareness, Acquisition, and Activation- have to be the best for a good ad and landing page.
Benefits
They capture the attention of a target audience – For instance, a good quality landing page helps to grab the attention of the target audience. It helps digital marketing campaigns and the success rate is high.
Improves and increases the conversion rate – It helps to generate leads and ultimately followers.
Drive and increase immense traffic – A proper landing page could work wonders for a business. It also helps one to drive all the organic traffic to the website.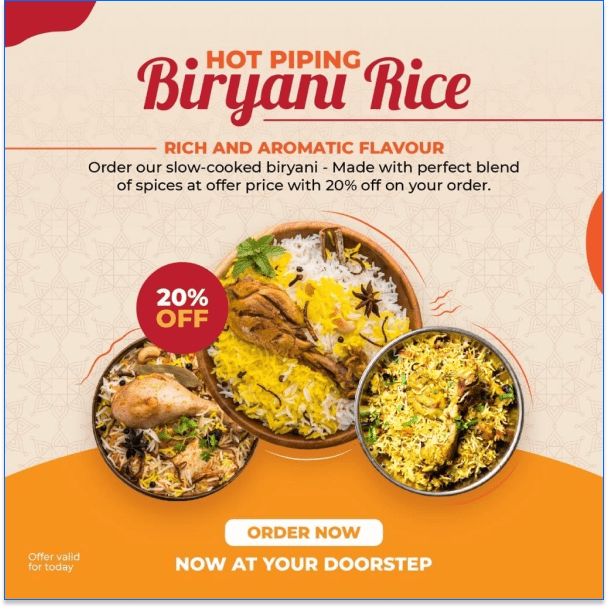 The above example is an Advertisement that leads to a website landing page. Mouth-watering visuals with highly striking copy lines make the consumer click on the advertisement. The ad caters explicitly to bachelors or young customers within the age criteria of 20 to 25 years. They are working professionals and mostly stay in a different city for work purposes. The ad intends to attract customers with less time to cook food or almost no energy left when they return from work.
The above advertisement, when clicked, leads to the below landing page. The minimalistic approach works here. Convey your message concisely and crisply. People have less time to read and browse things. Creating less chaos on a landing page will attract more customers to click and make purchases easily.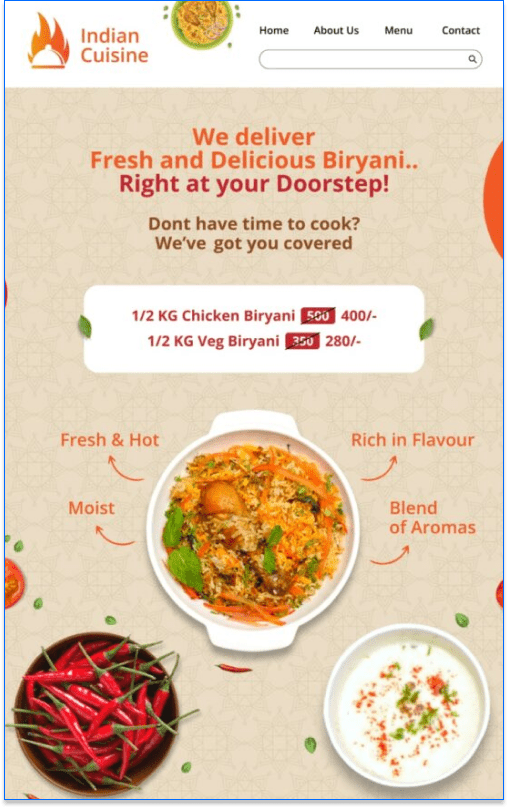 Additional Tips
A powerful title – Catchy headlines for the win! They help the users to grab attention.
Long-Tail Keywords – Long-tail keywords often obtain higher conversion rates. These keywords have low search volume, which means a higher ranking with incredible conversion.
Avoid messy or too much content – Stick to minimal content. Use time wisely; everyone quickly sees a concise summary.
Good page loading site – It gets annoying when the page is slow or takes too long to open. One may experience lesser traffic and higher chances that people might leave the site immediately. It often leads to higher bounce rates.
Colors play an essential role – The right balance of cool and warm colors holds importance. For example, a helpful landing page draws instant attention with a perfect balance of background colors, text color, and CTA button.
Add reviews – A landing page can have actual reviews or testimonials of the product or service. Reviews add a sense of trust, transparency, and credibility.
Avoid multiple call-to-action (CTA) buttons – The lesser options, the more chances that the user will avail of the services.
Good images or creatives – Visuals are more powerful than words. They leave a powerful impression.
We at Antriksh help businesses grow and achieve targets. We also help you increase conversion rates through well-optimized content and impactful media assets for your brand. Book a free consultation with our experts to help you attain business objectives and increase sales. Our dedicated team of professionals will ensure to help every type of business. Call us at 7249222661 or fill out the form to get in touch with us.